Whether you're undertaking a new build or expanding existing facilities, installing and implementing a dairy Manure Management System can be an exciting yet challenging mission. Any system is an expensive undertaking and plays a major role in the future sustainability of your operation, so you need to get it right.
Research published in the June 2022 journal PLOS One affirms this fact, noting, "the inter-related nature of these systems demonstrates how manure management systems are often locked in across farm systems through structural and equipment investments. Changing manure management systems is complex and requires not only a shift in the potential handling method, but also potential shifts in storage and application equipment as well."
Ron Brooks, co-owner and operator of Brooks Farms in Waupaca, Wisconsin, can relate.
"We knew we had to do a better job at manure management to take us from 250 cows to 800 cows and beyond," he said.
Brooks has launched manure system installations in the past and is currently installing a co-digester for the operation that will process waste from a nearby food processing facility as well as the farm's manure.
"There's an economy of scale we had to approach if we were going to be a long-term viable player in the dairy industry, and doing a better job at handling manure was a big push for us," he explained.

Use these five tips to help ensure your new manure management system is successful now and into the future:
1. LEAVE YOUR OPTIONS OPEN
Manure Management Systems are highly individualized based on your farm's goals and priorities. As you move forward, consider the current needs for your operation and the big picture of what comes next. Efficiencies can be gained by putting in additional infrastructure up-front to leave your options open for future expansion.
Look into your crystal ball and ask yourself how you will move manure. Are you always going to use alley scrapers in your barns? Is there a possibility you could install a flush system in return lanes, for example?
Don't be afraid to think differently and consider incorporating infrastructure that could make your life a lot simpler down the road. Think through all your options and your "someday" ideas.
"Our barn has an auger to move manure, but we knew someday there could be another barn," said Brooks. "Currently, the auger moves manure away from the manure pit, and then we pump it back to the pit. It seems counterproductive when you first look at it, but, knowing that we could build a second barn someday, it makes sense."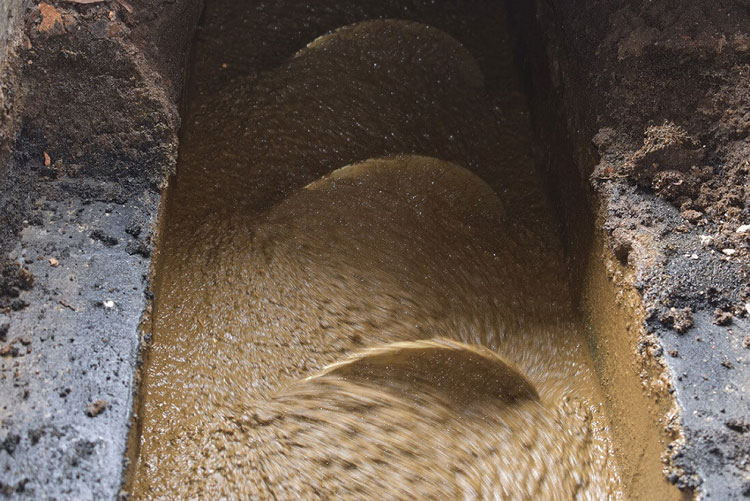 2. IMAGINE THE FUTURE
When planning a new manure project, it's important to consider not only the future of your operation but the future of the entire industry. What's it going to look like in five years? Ten years? Twenty? What might be the same and what will be different?
While we can't predict what the future will look like, it's important to consider the possibilities and how your system will be prepared. Factor in manure conveyance, bedding choices, treatment options and land application needs or restrictions.
Additional treatments to recover solids, extract energy, concentrate nutrients, reduce odors, reduce the mass/volume, and/or reduce pathogens may become more of a priority as farms seek to move toward sustainability, suggest researchers at Cornell University. Potential systems should be evaluated from many perspectives, including on an economic and effectiveness basis.
3. GET OFF THE FARM
Even if you have an idea of what you want your manure system to include, don't skip the step of touring existing farms and experimental facilities to see what's worked well or not so well.
Learn from others and discover what to consider for your facilities and management strategies. You might find a tip or solution you weren't considering ends up becoming a smart decision for your farm.
Even if you are planning a similar system design as another dairy, each set-up is unique to incorporate different ways to store, treat and apply manure efficiently for individual operations. The Brooks family toured 20-30 facilities as input for their project and cherry-picked what features would work best for them.
4. USE THE BUDDY SYSTEM
It's crucial to include the right people during the planning and building phases. Choose knowledgeable people who aren't afraid to tell you no and people you trust to give you advice that impacts the future sustainability and profitability of your operation.
Brooks said he learned the hard way the value of relying on others who can bring efficiency and knowledge to the project.
"I acted as the general contractor on the initial manure system install and building project in 2016," said Brooks. "I knew what I wanted and had 50 years of experience on this farm to know what works and what doesn't.
"But now, working with a professional engineer on the digester project, I think hiring an engineer would have saved me many headaches the first time around."
Consider a team knowledgeable in more than just the physical things such as what equipment is going where and how to move manure solids, effluent, bedding or any other materials from point A to point B. Broaden your network of resources by bringing together people who can help you navigate regulations, offer new ideas and provide efficiencies to the project.
5. DON'T LET THE NICKEL COVER THE DIME
While Brooks said he's always preparing for the future, there's always a cost to be weighed when planning manure systems.
"Looking forward sounds really cool, but it does tend to snowball and can add significant cost to a project," he said.
So how do you decide what's worth the cost and what isn't?
Use your partners to help determine how to spend your investment dollars efficiently. Should you install equipment A when equipment B will serve as well? Should you consider a more expensive option because it will be a better solution for your needs? An outside perspective can help you see the bigger picture and evaluate what makes the most financial sense for your operation.

Headquartered in Hollidaysburg, Pa., USA, McLanahan Corporation offers over 185 years of experience in providing processing solutions to a variety of materials handling industries. Today, their operation includes offices in the United Kingdom, Australia, China and Chile, and it is supported by a strong network of dealers and partners around the world. For more information, sales@mclanahan.com.